The young IT specialist from Latgale learns to present ideas to investors
Through the initiative of the Stockholm School of Economics in Riga (SSE Riga), the Entrepreneurship Training Course for aspiring entrepreneurs was run in the Latgale region for the second consecutive year.

During 5 weeks, with sessions 2 days a week, 50 selected participants were inspired and equipped with the skills and information needed to set up a company and run a business. However, the long-term goal of this SSE Riga initiative was to strengthen entrepreneurship culture in Daugavpils City and the Latgale region and to engage participants in entrepreneurial networks.

"The project's aim is to spur entrepreneurship in the Latgale region and to encourage prospective business owners. People with entrepreneurship education are more likely to set up their own companies; therefore, it is important to advise those who don't have a business education. By providing this intensive training course and making entrepreneurship education more accessible, we want to give them the confidence, skills and knowledge to develop their own business ideas and make them work. This is also a great opportunity for them to exchange ideas, advice and questions with other like-minded individuals from the Latgale region," explains the Rector of SSE Riga Anders Paalzow.

The Entrepreneurship Training Course in Daugavpils was organized by the joint efforts of the Embassy of Sweden, the Stockholm School of Economics in Riga and CONNECT Latvia.

After completion of this course, the most adventurous participants could take the next step and apply for the Riga-Cambridge Venture Camp – an informal education programme which takes place at leading universities, business incubators and innovation centres in Riga, Latvia and Cambridge, UK. The Venture Camp is an opportunity for cross-disciplinary students to gain practical insights into the local and global business world from experienced entrepreneurs/lecturers in Riga and Cambridge. The programme has been aimed at stimulating enterprise and innovation in Latvia's regions, starting with Latgale in the east of the country.

Below, we look at the experience of an aspiring entrepreneur from Latgale – Krišjānis Daugulis. His story started with the Entrepreneurship Training Course in Latgale and continued with the Riga-Cambridge Venture Camp.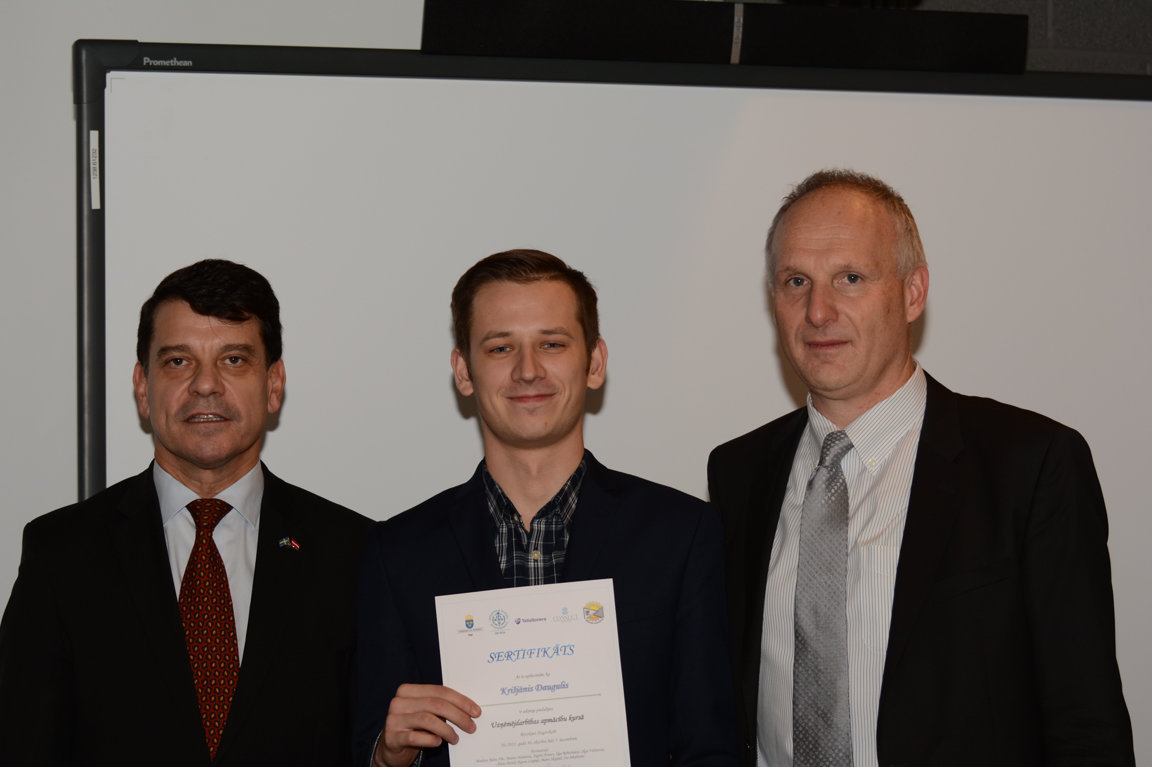 Ambassador of Sweden to Latvia H.E. Henrik Landerholm, Krišjānis Daugulis and the rector of SSE Riga Dr. Anders Paalzow

Krišjānis Daugulis, who has spent some years working various jobs in information technology (IT), participated in the Riga-Cambridge Venture Camp with a clear goal – to learn how to present his startup company to investors and sources of financing.

"Amber Housing is a Rezekne startup with 10 people working on IT solutions for building management. We are in an active search for financing, the Cambridge Venture Camp gave us a look at the investor involvement side. This was the main purpose for my attendance," Krišjānis says.

Despite his focus on learning to present Amber Housing to investors, Krišjānis speaks well of the first session of Venture Camp, which was held in Rezekne and attracted a wide range of active and potential local entrepreneurs.

"What I liked in the Rezekne part of the course was that there were so many ideas, but mostly leaning toward IT, and there were also local, non-global ideas, such as tourism and opening cafes," Krišjānis recalls.

The young IT specialist is from the eastern Latvian region of Latgale, where he also earned a bachelor and master's degree from the Rezekne Higher Education Institution (RHEI), whose engineering and science departments are commonly called the Rezekne Technical Academy. Born in 1989, he has already held a number of IT related jobs in the Rezekne area as a programmer, business analyst and quality manager. His current project is the recent startup Amber Housing, which offers building management software tools and solutions in a cloud-based environment.

Building management in the cloud

"We launched the system some months ago, free of cost. Any building management company can start an account," he says, and tells that as of mid-July, "there are three active users in Latvia and Britain, our golden customers." The idea of the service is to bring transparency to costs and functions in managing or owning a building or a house, with many functions and indicators defined by the users/building managers themselves. "If they need a lawn mowing schedule, why not?" Krišjānis says.

The presence of a British customer gave a certain sense of urgency to the Cambridge part of the Venture Camp. Krišjānis says that he got his chance to present Amber Housing as if to potential investors. However, pitching the company to a large panel of business lecturers left him with slightly mixed feelings.

"It was a simulation before our teachers, who are not our company's target audience. In their comments, they always sought to find points where they could teach us something. That made some of the presenting seem a little pointless," he says.

The ideal test would have been to ask potential "investors" for EUR 100 000 and discuss the terms of an investment deal, the return they would expect on this sum and the like," says Krišjānis.

Learning to present ideas to investors

But overall, Krišjānis was pleased with the Cambridge Venture Camp experience. "For us Cambridge was valuable from the startup, not the technical side, it was about getting investors, where we have little experience, and learning to present ourselves." He also remembers meeting with the Cambridge Design Partnership "for whom innovation itself is a product."

Upon first seeing the famous university town, Krīšjānis though that "Cambridge was not much bigger than Rezekne and full of cyclists and bike paths." It soon became apparent that Cambridge was much larger, but with good bike paths "where even high managers ride to work." Cambridge also buzzed with enterprise and innovation, much like the circles in which Krišjānis moved and worked in Rezekne.

While he still plans to open some foreign offices, including in Britain if Amber Housing takes off, Krišjānis came back from Cambridge convinced that "Rezekne (in Eastern Latvia) is not out of the way. In a globalized world it could attract IT workers, offering a quieter life and a lower cost of living. Combined with the Technical Academy, it is a strategically good location for IT companies," he says.