Starting a new business: A story of an aspiring entrepreneur from Latgale
This is a story of how the graduate of the Latvian Police Academy with a law degree is trying to pursue his long-term dream of reviving the Kuznecov Porcelain Factory in Latgale. SSE Riga team met Deniss while organizing the Entrepreneurship Training Course in Daugavpils with the aim to to spur entrepreneurship in the Latgale region.
Through the initiative of the Stockholm School of Economics in Riga (SSE Riga), the Entrepreneurship Training Course for aspiring entrepreneurs was run in the Latgale region for the second consecutive year.
During 5 weeks, with sessions 2 days a week, 50 selected participants were inspired and equipped with the skills and information needed to set up a company and run a business. However, the long-term goal of this SSE Riga initiative was to strengthen entrepreneurship culture in Daugavpils City and the Latgale region and to engage participants in entrepreneurial networks.
"The project's aim is to spur entrepreneurship in the Latgale region and to encourage prospective business owners. People with entrepreneurship education are more likely to set up their own companies; therefore, it is important to advise those who don't have a business education. By providing this intensive training course and making entrepreneurship education more accessible, we want to give them the confidence, skills and knowledge to develop their own business ideas and make them work. This is also a great opportunity for them to exchange ideas, advice and questions with other like-minded individuals from the Latgale region," explains the Rector of SSE Riga Anders Paalzow.
The Entrepreneurship Training Course in Daugavpils was organized by the joint efforts of the Embassy of Sweden, the Stockholm School of Economics in Riga and CONNECT Latvia.

After completion of this course, the most adventurous participants could take the next step and apply for the Riga-Cambridge Venture Camp – an informal education programme which takes place at leading universities, business incubators and innovation centres in Riga, Latvia and Cambridge, UK. The Venture Camp is an opportunity for cross-disciplinary students to gain practical insights into the local and global business world from experienced entrepreneurs/lecturers in Riga and Cambridge. The programme has been aimed at stimulating enterprise and innovation in Latvia's regions, starting with Latgale in the east of the country.
Below, we look at the experience of an aspiring entrepreneur from Latgale – Deniss Kuznecovs. His story started with the Entrepreneurship Training Course in Latgale and continued with the Riga-Cambridge Venture Camp.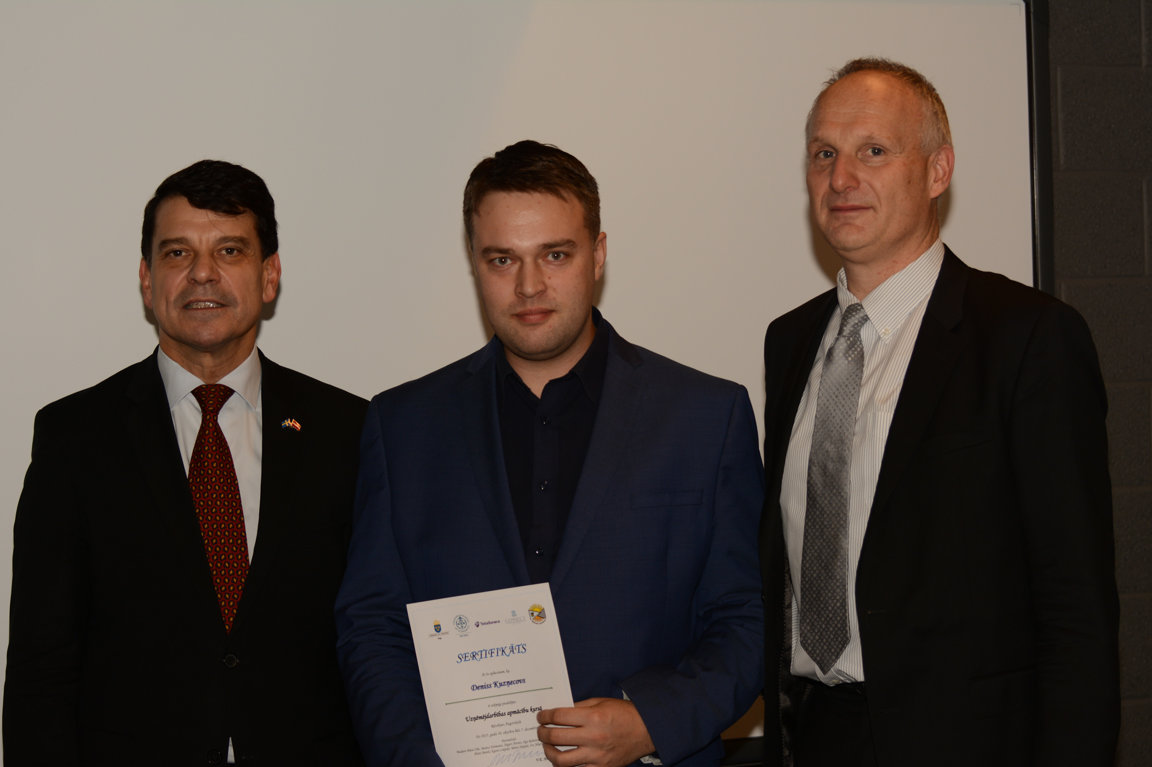 Ambassador of Sweden in Latvia Henrik Landerholm, Deniss Kuznecovs and Anders Paalzow

Deniss Kuznecovs found inspiration for a future enterprise when his daughter, a primary school pupil, was asked to research her family name. Kuznecovs, or Kuznecov in its Russian-Slavic version, is an unremarkable last name, except for one thing in Latvian history. There was a famous Kuznecov Porcelain Factory dating back to the mid-19th century, when Latvia was a province of Czarist Russia and the entrepreneurial Russian Kuznecov family opened a porcelain factory in Riga.
By the time of the Russian Revolution in 1917, the Kuznecovs practically had a monopoly on making porcelain and faience (a special kind of earthenware) in the whole Russian Empire. Kuznecov porcelain was exported to England and other European countries and was a top luxury brand at the time. The communist revolution and the collapse of the Russian Empire saw the Kuznecovs concentrating on what was left of their business in Latvia. When Latvia was occupied by the Soviet Union in 1940 and again in 1944 after a brief German occupation, the factory was nationalized and carried on as the Riga Porcelain Factory until Latvia regained its independence in 1991. In the 1990s, the enterprise gradually ceased to exist and a shopping centre was built on the site of the factory.

Policeman, lawyer, porcelain maker…?

Deniss Kuznecovs, who claims no direct descent from the famous Kuznecovs, seems an unlikely person to take the idea of someday bringing back the Kuznecov Porcelain Factory to the Riga-Cambridge Venture Camp. To be sure, he is a Latgalian, born in the eastern Latvian region of Latgale, known for its potters and ceramic artisans, but his career so far has had little to do with ceramics or the porcelain industry. A graduate of the Latvian Police Academy with a law degree, Deniss worked for some time as a police officer, but then moved on to practice law because it gives him more time to develop his entrepreneurial side. He now works as a lawyer for the municipality of Aglona, known in Latvia and to some extent in the Catholic world for an annual pilgrimage each August 15 to its basilica and a September, 1993, visit by Pope John Paul II.

The business idea that Deniss has had and which he presented at both stages of the Riga-Cambridge Venture Camp is to make porcelain objects with a 3D printer. 3D printing is a technology buzzword and "the idea was received as interesting, because 3D printing is emerging, it is done with polyester, metal – and it can also be done with clay; porcelain is kaolin, a special kind of clay," he recalls.

The Venture Camp gathered people with different kinds of ideas, "helping the sight-impaired, all kinds of software for phones, 3D visualization of blueprints on a phone," said Deniss. For him, one important aspect was getting to know a woman who, as a scientist, studies silicates, clays and nanotechnology. She is a contact who can help develop the idea of 3D printing of porcelain.

Brushing up English and burning some cards

The Cambridge part of the Venture Camp in early 2016 was exciting, Deniss remembers – he met young entrepreneurs from all over Europe and quickly refreshed his knowledge of English in order to make presentations and speak with his fellow "campers". He even ran across another guy from Latvia working at a Cambridge nightclub who noticed him speaking Latvian to some of the other Venture Camp participants from Latvia.

Some real "excitement" happened when a Dutch camper tried to demonstrate card tricks but dropped some cards in the kitchen sink. Not much of a scientist, the clumsy card magician put his wet cards in the microwave oven to dry and went back to chatting with the others until the conversation suddenly stopped as the room started to fill with smoke from smouldering playing cards. It ended well and the Dutch guy later came back with a box of candy to make up for the temporary mess in the common kitchen of the residence where the Venture Camp participants were staying.

Putting Latgale back on the porcelain map

Although the idea of resurrecting porcelain manufacturing in Latvia is a medium-to-long-term project for Deniss, he sees potential for making the idea a reality in his home region of Latgale, near the town of Rezekne. "The new porcelain factory would combine old and new technologies and make use of the ability to find people in the ceramics industry near Rezekne, where there was a ceramics factory as well as many artisans working in ceramics. The Rezekne College of Art has a programme in ceramics and there are engineers and a 3D printing lab at the Rezekne Academy of Technology." 3D printing would be used for exclusive, custom designs and prototyping of porcelain items, while most production would be through conventional methods, he says.

Deniss believes the Kuznecov brand has not been forgotten in export markets and could be successfully revived in Russia and elsewhere. As an example, he points to the revival of the Latvian Erenpreiss bicycle brand, which was relaunched in 2012 by a distant relative of the founder Gustavs Erenpreiss. Before 1940, Erenpreiss was the largest maker of bicycles in the Baltic countries.

Outside of the Venture Camp, Deniss has been doing research on porcelain manufacturing from time to time. He visited the only remaining porcelain manufacturer in Latvia, the Piebalga Porcelain Factory, a small-scale maker of artisanal porcelain and a potential competitor or cooperation partner for his long-term dream of reviving the Kuznecov Porcelain Factory. The small porcelain plant is located in the town of Vecpiebalga.

For now, Deniss has founded an innovators' and entrepreneurs' club to promote entrepreneurship in the Latgale region after his participation at the Venture Camp in Latvia and Cambridge. Spreading the entrepreneurial and innovative spirit is what the region currently needs, but Deniss's longer-term goal is still to see Kuznecov porcelain selling on the international market again – some of it made on 3D printers.
1 comment
- Starting a new business: A story of an aspiring entrepreneur from Latgale
Elrick Hart - October 31, 2018 at 12:06 am
Get a loan for a new auto and to pay your bills off with low monthly payments at interest rate as low as 3% only. For full details and to submit a loan application contact us via:
[email protected]
WhatsApp Number (+16092270621)
Leave a reply